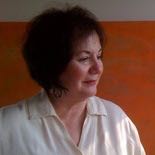 ---
June 9-14, 2023
(5 Days)
Deposit $150.00
Non-refundable
---
Dear Friends,
Crazy times are still here, and it is like a weather see-saw! As seasons go, however, we will definitely move into Spring, in time for our most revered workshop at the Farm.
The Farm is a morning's drive (2.5 hours on Route 81 North from Philadelphia) To the Endless Mountains in Pennsylvania. (A delicious lunch awaits us!)
In June, the bright light with long days will provide bursting color, high hills as far as the eye can see, ponds surrounded by wildflowers, tall grasses, deep forests, sheep, chickens, and horses!
Three scrumptious homemade meals each day are served lovingly in the warmth of the Hull Family's Pond house, all under the grape arbor with an enormous sky/high stars…. as you clear, you get in touch with yourself and your art. Painters, Printmakers (monotype), Photographers, and Writers are welcome.
The Farm has over 400 acres, and barns have been converted to studios which serve as a great place/space to work.
Deborah Leavy of Radnor (background) paints while Kitty Bancroft of Merion sketches Margaret Hull, caretaker of Spring Hills Farm, riding a horse named Blue.

Main Line artists dine al fresco at Spring Hills Farm.

Deborah Leavy of Radnor paints in an open air studio at Spring Hills Farm.

Evergreen House provides accommodations for artists on the farm.

The pond at Spring Hills Farm provides an alluring subject for artists.

Charlotte Thurschwell of Haverford is inspired by the landscape at Spring Hills Farm.

Jacob sheep at Spring Hills Farm.
---
Workshop includes:
Morning lectures/Art History
Meals (Breakfast/Lunch/Dinner)
Gazebos / Easels / Tables / Stools / Chairs / Access to Monotype press
Accommodations at the Farm for a nominal fee, per person/per night. Single rooms (bathroom access)
Bunk House/Tents
---
Consider the workshop as a springboard for your work, a must for the serious artist.
Life can be grand!
Francine
Any questions/concerns: fmshore@yahoo.com
**Everyone needs to present a vaccination card.