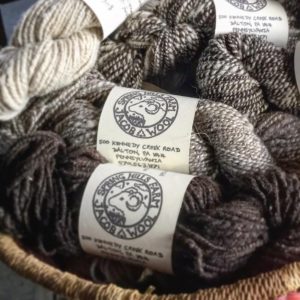 Custom-made skeins of undyed, hand-made heritage breed Jacob Sheep wool now available in gray, white, brown, or the combination of your choice! Check out our Etsy shop and start your one-of-a-kind project today!
We offer Heritage Jacob Wool products, all undyed and (with the exception of the noted processed skeins) hand-sorted, hand-washed, and hand-carded – and we are beginning to list out handspun yarns as well! We also offer some skeins which are a blended (but still undyed) combination of Heritage Jacob Wool and alpaca from the neighboring Milkhouse Farm, and the option for you to put in a custom order for a skein or product that meets your needs exactly!
In recent years, the Hull family has brought sheep back to graze the rolling hills. We are excited to offer Jacob sheep wool and skeins of natural un-dyed yarn (2 ply and single ply).
Please click here to purchase our fine Jacob Sheep products.